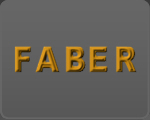 FABER has always covered the factory internal transport and was established to meet the increasing demands of automatic handling in the ceramics sector.
It is a complete-cycle company – from designing stage to delivery of ready-to-use machinery - providing standard parts (electro-mechanic, hydraulic and electronic) and building special components at specialised affiliate shops.
Its technical office is composed of two divisions: one specialising in mechanics, hydraulics and pneumatics and another in electrics, electronics and informatics; both are run by highly experienced people in the respective fields. Moreover, it includes a shop where the machines are assembled and produced.
It also has a team of local maintenance industrial experts, both mechanical and electro-technical, who are competent in electronics.
The peculiar characteristic of our company is that we study, create and assemble highly specific and purposely made devices, machines, and installations for the clientele.
The company works mainly in the ceramics sector, with which it began, and has installed everywhere in the world, directly or on behalf of international groups. Its installations are still in use and they are still being completed and updated.
The company has recently widened its activity in the handling industry, with centres that make use of machine tools, wood and marble processing machines, and also internal transport in different sectors for vertical warehouses.
FABER is available to design and create complete installations or special machines based on exact specifications and with the customer's assistance; it also covers assemblage and start-up in any country, besides providing assistance and spare parts supply.